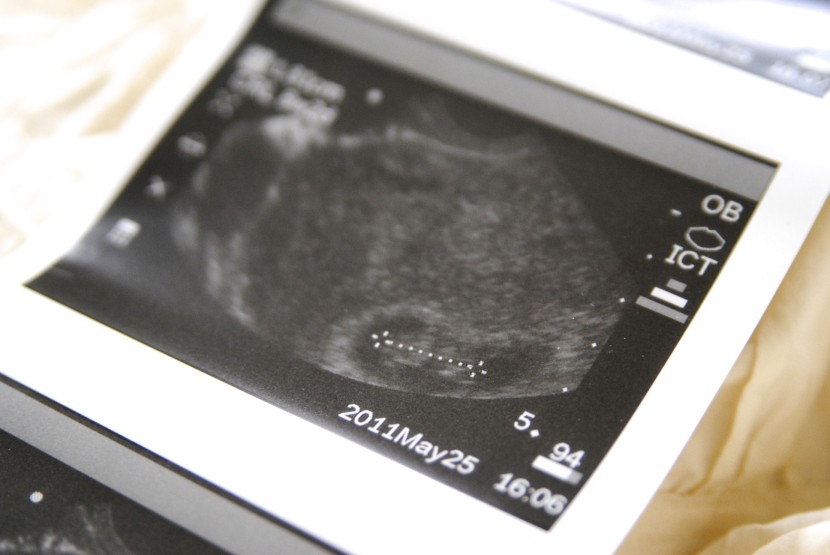 We're having a baby!!  It's still pretty early; I'm only 8 weeks along.  However, I went to the doctor a couple of days ago, where I saw that little fluttering heart beat, and I just can't hold it in any longer.  The due date is New Year's Day 2012, which pretty much guarantees we won't be meeting this little one until sometime after that (my babies tend to want to stay warm and comfortable until about a week after I'm due).
The girls have been a lot of fun about this whole thing.  They were praying with us before, that God would send another baby to my tummy, so having all of our prayers answered has been exhilarating.  Pace asks me most every day if I know yet whether it's a boy or girl, and then she reminds me of the baby's size (which is, currently, about the size of a blueberry).  Mary Aplin puts her little hand on my tummy every day and asks, "Bigger now Mommy?"  I'm afraid it is.  I feel like I started showing approximately three days after I found out I was pregnant.  Not enough that I look right in maternity clothes, but enough to make you wonder if I've been eating cheeseburgers and downing beers lately….It's awesome 🙂
I have been very nauseated and hormonal, and I'm not sure which is more manageable.  Jeremiah thinks the nausea is much easier to handle :), but I would tend to disagree.  I was horribly sick with Pace (until about 20 weeks), not nearly as sick with Mary Aplin (I thought maybe my body had mastered the whole pregnancy thing), and now I'm somewhere in between–but tending closer to Pace's pregnancy than Mary Aplin's.  Because I'm sure you all want these details, I'd say I'm nauseated off and on every day but only actually throw up four or five times a week.  Funny how pregnancy makes you want to get graphic and assume everybody else is interested in your graphic problems.  I will spare you some of the other issues…be thankful.
I had a heart-broken blog-friend email me a while back and ask if I ever felt like some of the joy of the last two babies had been stolen by the fact that my Mom was struggling with/dying of Ovarian cancer.  She could not have known the deep inward struggle that would follow her question, but I went on quite a journey.  You see, I have felt that way.  While I am unbelievably thankful and feel so blessed that my Mom was with me throughout both of my pregnancies, was able to teach me/take care of me after I had Pace, and met both of my girls–at the same time, her sickness overshadowed both experiences for me.  With Pace, she was taking chemotherapy during my pregnancy and recovering from the treatments as she tried to help me recover from having a baby.  With Mary Aplin, she was at the hard end of a long struggle and passed away when Dapples was only 8 weeks old.  I don't know that my Dad knows this, but I called he and Mom three different times to tell them I was pregnant, and every time I called there was new bad news with Mom.  Twice, I hung up the phone, not wanting to mingle my happy news with their devastation.  The third time, I just told them despite the fact that we were all crying.  My time in the hospital after Mary Aplin was born was one of the darkest periods of my life.  I'm pretty sure the nurses had me on suicide watch, and I had an encounter with an angel/nurse who found me crumpled on the floor in the bathroom crying my eyes out in my hospital room.  It was too much to deal with at one time.  Sometimes I look back, and I don't know how I lived through all of that…except my faith…and my husband…and my two sweet symbols that life does go on…
Anywho, you get the idea.  My blog friend's question was spot on.  What I realized as I analyzed her question was that I was still dealing with those feelings but in an unhealthy way.  I felt like I'd taken every major step in my life at the wrong time: I got married before I graduated from college, I had Pace too soon after we'd gotten married, I'd had Mary Aplin when Mom was so sick.  Each life milestone seemed like mixtures of joy and hesitation with our families.  As a first born, people pleaser I had determined that I was NOT having another baby until everybody was on board.  I wanted Jeremiah to be done with his training–so nobody could say we didn't have enough money to have a third child.  I wanted Pace and Mary Aplin to be old enough that nobody could say we didn't space them out enough.  I wanted to be back in Alabama so that nobody could say we were crazy for having a newborn that far away from help.  And MOST OF ALL, I wanted everybody to be healthy…
I didn't speak these things out loud, but it was all going on in my heart.  I was trying to control everything surrounding this third pregnancy.  I was trying to have a perfect pregnancy…and I couldn't get pregnant.  I had gotten pregnant on birth control "accidentally" with both Pace and Mary Aplin and now I'd been off my medicine for five months and there was no baby coming in my "perfect" timing.  What I realized, when my blog friend asked that question, is that I had put myself in the place of God!  Did I really think I was the author and giver of life?  Did I really think I was just going to mix A and B, whenever I was good and ready, and make C?  It's the miraculous gift of life, and who in the world did I think I was to try and control that?
I suddenly wanted to slap myself in the face for ever referring to my two sweet babies as "accidents."  I became so thankful that He had given me Pace and Mary Aplin, exactly when He did–because His timing is perfect.  I was humbled and prayerful, instead of proud and planning.  I hurt deep for other Moms who struggle for years with infertility, when my meager five months seemed excruciatingly long.
And now, on the day when I finally come to tell you that He has answered our prayers for another baby, I also wanted you to know how gracious I really feel.  Not only am I thankful that He has begun new life in me but that His timing is always more perfect than mine.