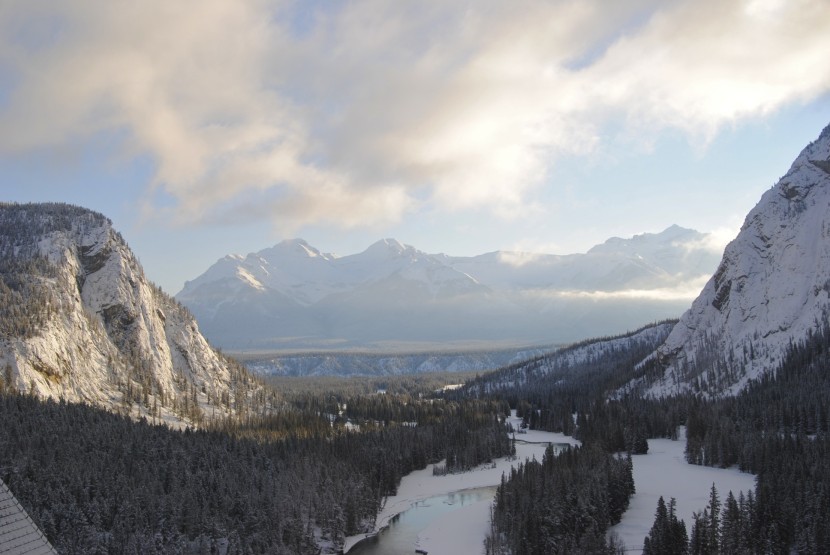 Last night, we arrived safely back in Seattle after our trip to Banff.  I lie in bed, unable to sleep, asking myself, "How can people question if there is a God, when we have evidence like this?"

When I look out at these mountains, my knees want to buckle in reverence–at how big He is.


My heart wants to cry out in praise that I don't know how to utter.
None of us know for sure, what it will be like on the day when we finally see Him face to face, but sometimes I delight in trying to imagine it…knowing that no matter how far I let my imagination roam, He's going to surprise me with how much greater He is.

I know that my most pure and deep longings come from Him and that I am bound by an earthly body that is incapable of all He will one day permit me to experience.
Do you think He'll dance with me across these mountain peaks,

And race me down these hills?

Will He laugh when I sink deep into a snowy bank?  Will I look up to see His face shining and His hand outstretched to pull me from the depths?

When I'm safely back at His side, will He remind me of all the other times He's rescued me…times I didn't even know about…times that I did.

Will I walk with Him down these rivers, with the mountains towering on either side?  Will He tell me about the day He spoke them into being?

Will He say, "Watch this," and create another mountain before my eyes?

Will He give me words to express my wonder? A song for my lips?  Or will I press His hand to my heart, where He'll be able read it best?

And when our day is ending and the adventures leave me spent, will He come and build a fire in the room that He's prepared?  Will I make a cup of hot chocolate and smile as He asks for extra cream?  Would He really let me serve Him?  Would I get to watch Him enjoy something my hands prepared?

Would we both sit by the fire, sipping warmth and talking long, of the next adventure we'd share together…all the things He'd like to show?  Will He draw it out, knowing that expectancy is part of the joy, waiting and planning part of the gift?  Would He remind me that we have eternity…and we're going to fill it up?

Would I pull some crumpled papers, that I'd kept close to my skin, and place them in His hands–my toil, my praise, His greatest gift to me?  Would I get to watch Him read them, watch a smile come cross His face–and know that I had pleased Him…Can you imagine the joy of pleasing Him?

As He tucks me in to covers, lays His hand upon my cheek, will I beg Him for a story?  His side of one moment in my life–when He was orchestrating beauty that I could not see.  Or a moment He shared with David, that the Scriptures didn't record.  Or what it felt like to speak to Moses from inside that burning bush.

Just a morning in the mountains, an encounter with the works of His hands.  Oh for the words to tell Him all that He excites in my heart.