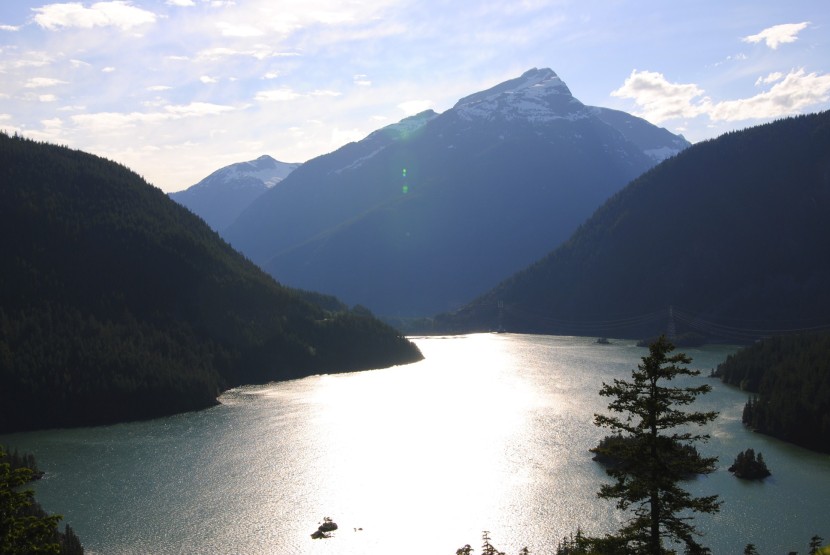 We packed it slam full in true Maddox style.  Normally I try to resist Jeremiah in planning this much for one weekend, but I knew this would be our last big "Hoorah!" before the packing began.
We started out the weekend by re-tracing our favorite drive, this time with Taylor and John David, across the North Cascade Highway.
Somehow, they did eventually fall asleep and we got to enjoy quiet grown-up conversation surrounded by the dark cloak of wilderness.
We slept pretty well, as far as camping sleep goes (can anybody ever say they sleep well on a camp out?), and woke up to the sound of lightly pattering rain on our tents and a cold misty morning.  The boys hopped straight out of our tents and Jeremiah tried to re-assure me that it really wasn't raining, that the tree canopy was thick enough, that there were no drops landing on them…but my sleeping bag was too warm and the tent was too dry for me to believe a word of it.
I listened to the thud and crackle of a fire being kindled, the laughter and disappoint of the much-needed coffee being brewed in my old (and hastily washed) panty-hose that turned out to be undrinkable because it tasted exactly like hot Dawn soap.  I only roused myself from my warm cocoon (and snapped this picture) when I heard the popping of sausage and smelled the burnt bottoms of biscuits–that I thought might need a little extra care.
 We broke up camp, drove home, unloaded our camping gear, and crashed for the afternoon.  We had our first (and only) group fight that night over the fact that Taylor and I thought we deserved to be taken out to dinner (after 24 hours of roughing it in the wild) and the boys wanted to grill out–again.  We went out for Italian :), and woke up the next morning to find that Seattle was welcoming the Fourth of July with one of her most glorious days.
 Jeremiah and John David took Pace and Mary Aplin to the Wooden Boat Festival, while Taylor and I got ready to have our friends over for a BBQ that night.
 I was thankful that this crazy imp was occupied so that Taylor and I could actually get some things done at the house.
John David named the wooden boat festival as one of his favorite things he did the whole time they were here in Seattle.  Jeremiah came home ready to bid for a wooden boat on eBay.  Perhaps Mapples didn't ruin it for them too much.
Taylor and I welcomed them all home to a feast…that we only cooked part of!
 After the sun set over the city, we walked to what Jeremiah and John David thought would be the perfect spot to watch the fireworks over Lake Union.
 We spread our blankets out on the grass at the park…and started to notice that many of the other hundred-some-odd people were all saying it was their first time to watch the firework show from this spot…we should have recognized the problem there.
However, when the BIG booms started, we realized that the houses surrounding our picturesque little park were blocking our view of the real show.  The entire park full of people rose in a swell, gathered their coolers and blankets, and booked it down the street.  We laughed at our stupidity, and finally stopped in somebody's driveway to watch what we could see of the show over the tree-tops.
It was a disaster, but it was a disaster that will make the night memorable :).  We piled about 20 people in a pick-up truck and drove the half-mile back home with children that were quickly glassing over.  The night ended on our porch and crammed in the bay window of our den, our home filled with the friends we've made here in Seattle, eating the remnants of brisket and Texas popcorn and watching the fireworks scattered in the distance over West Seattle and Bainbridge Island.
Did we pack enough into three days?