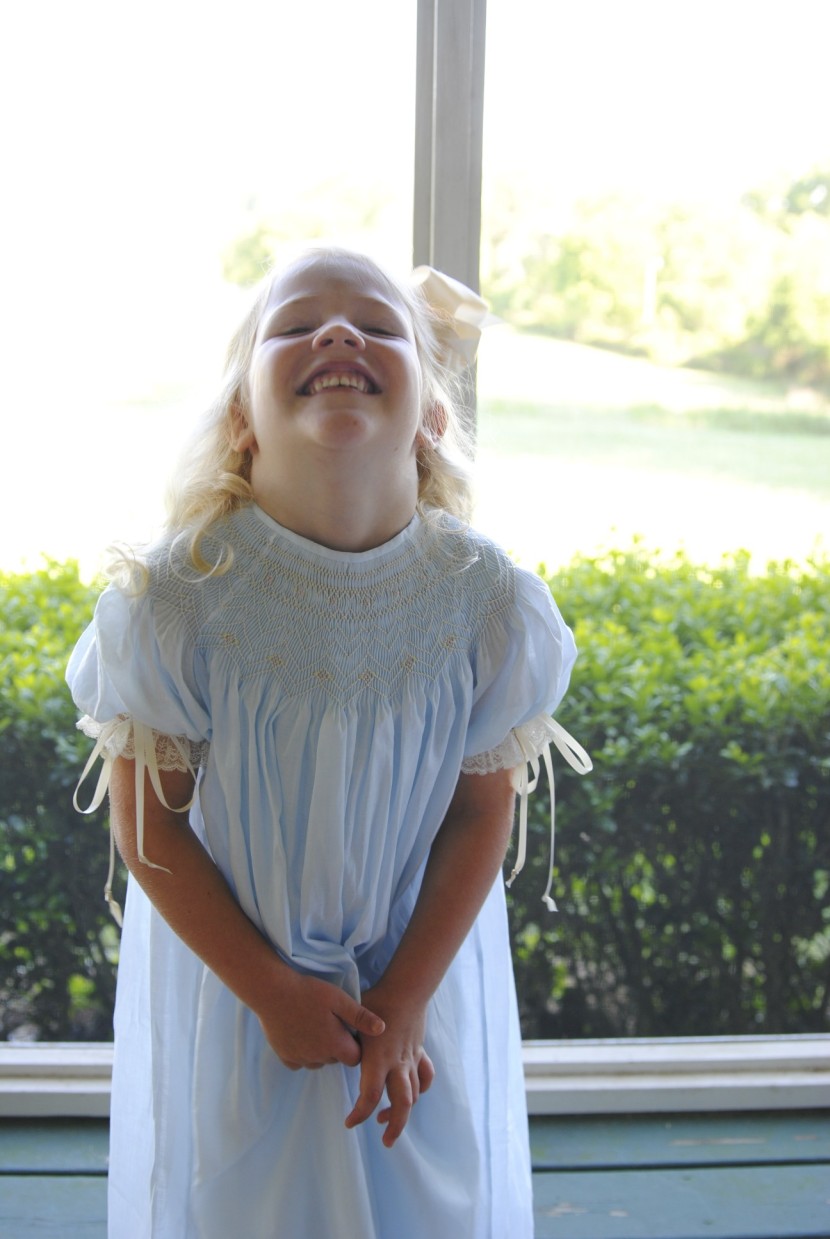 I tied the last knot at 11:30pm on Easter Eve, but I DID finish.
The girls stood in front of my bathroom mirror in their slips, as I secured their bows in their hair, and I was dumbfounded by how beautiful they were before those dresses ever went over their heads.  
My little chicken wings.
 But go on ahead and look close at that smocking…
It doesn't compare in the least with the little ladies it adorned on Easter morning, but it was beautiful…if I do say so myself 🙂
But this year, for the first time in the history of my life, there was a boy to get ready for Easter morning.
I left the pink rosebuds off of his tiny smocked panel, but he couldn't help but look like a little rosebud himself.
And I think he was feeling a little cocky about it…
It takes a real man to pull off a smocked bubble.  I'm laughing out loud right now.
But y'all know how I like to tell you the truth behind our posed pictures, so before I venture into our lunch, let me clue you in.  The weekend before Easter we made another impromptu run down to the beach.  We were sitting in Thomas doughnuts, when Jeremiah casually mentioned that he would be taking call the next weekend… … …
"That's Easter!" I said, flabbergasted.  "You mean the weekend after that, right?  You called and asked me about taking call on April 15th, not April 8th!"
"I'm taking call April 15th too, but I'm on call this weekend as well.  I didn't realize this weekend was Easter."
Now, when I tell you that I've been smocking every single free second I've had for the past three weeks, I'm not exaggerating.  And when the culmination of all that work was finished–he was going to miss it.  We'd talked about joining the church that Sunday.  How was I going to do Easter morning–the bunny, the dresses, the cooking, the pictures, getting out the door and into the church wearing HIGH heels, carrying a heavy pumpkin seat, a diaper bag, a Bible and two little girls??  And all this smocking and dreaming of Sunday morning as a family and the charter member of our Maddox family was going to be MIA.  I had some teary eyes and some angry words over my doughnuts.
For all those stressful reasons, when Kendall showed up in my bathroom at 8 am on Easter morning and said, "Tell me what I can do to help," I felt like God had answered my prayers in a wonderfully tangible way.  Thank you Kendall.  Thank you, thank you, thank you.  She took all of those pictures above, and got the girls dressed, and let me bark lots of other orders like, "Grab a bib!  No, not that bib, a pretty bib.  Oh, and a good burp cloth.  No, well, we can use that one in the car but we need a different one for his diaper bag…"
Even without Jeremiah, we did manage to make it to church, and then we went to Dad and Konie's for lunch, where Konie had done something AMAZING.
Grandma, Grandpa, Mimi, a smattering of sisters, brother-in-laws, aunts and uncles…and plenty of food brought by all.
And I wasn't the only one who had some extra special help that morning.  Jeremiah's Dad and his sister Ashley both showed up at the hospital to help Jeremiah get through his morning duties so that he could join us for lunch.
Mary Aplin lovin' on Mama B.
The start of the Easter egg hunt.
Grayson, my cousin Webb's little boy.  Does anybody have a spoon?  I want to eat him and his sweet little personality right up.

He joined in the hunt with the girls.
And you can believe that his attitude was a lot better than this one's 🙂  Here Mary Aplin is taking her time out.
And here we are enjoying our time out.  That's me back there, lounging in the sun in my Sunday dress.  Taylor, who had yet to see the light of day this Spring ;).  And Kendall who "slipped into something a little more comfortable" after church.  
After the egg hunting got old, the girls had their way with poor, unsuspecting Grayson.
Jay Paul, watching from the distance, began to worry about his future with two older sisters.
But I reassured him that, while he will probably find himself dressed as a princess from time to time, he'll always remain our little buddy man.
Grandma was just happy she got to sleep instead of sew all night this Easter.  That isn't true, really.  She just loves watching her great-grand-babies.
I guess now is as good a time as any to let you know that Jay Paul has acquired a new nickname–and it's a strange one.  He's still buddy man, but just as Mary Aplin became Mapple Dapple and then became plain Dapples.  So has Jay Paul become Bay Ball and now…Baybus.  I know, I don't understand it either.  Pace is just thankful that her name was short to start with.  Baybus gets kissed so much and so often, that sometimes he has had enough.

But all in all, I think he had a good first Easter.
(You can see here that Keke did manage to find a pretty, Sunday bib for his diaper bag :))
But, after all that sillyness, let me say, "He is risen!!  He is risen, indeed!"