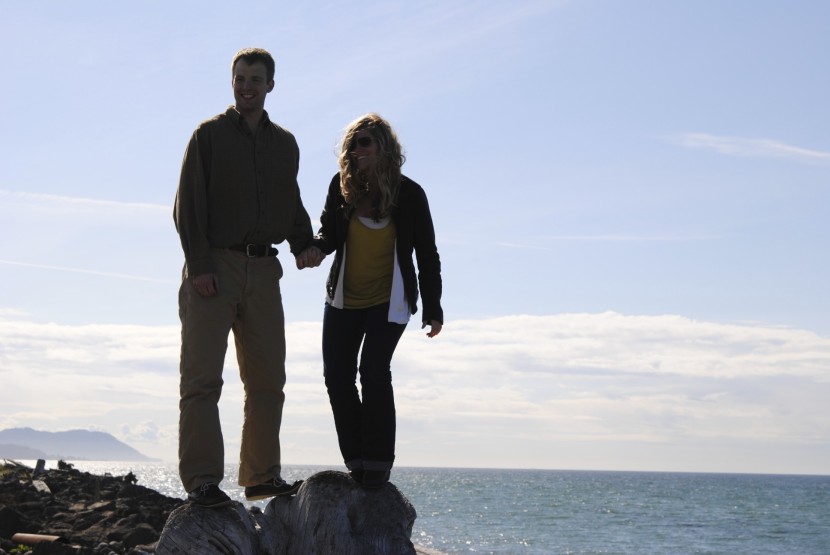 First of all, thank you for all the excitement and well-wishes on the last blog!  We are still on cloud nine, and I am still sick…par for the course I suppose.
I realized this week how behind I am on blogging, considering the fact that my sister, Taylor, and brother-in-law, John David, have been living with us for a MONTH, and I still haven't even mentioned it on here.  I've been talking about too many books and too little life, apparently.

John David is in medical school and is doing a rotation out here and two months of research…which totals three months of sharing life together.  They will be here until we leave, and it has been such a tremendous blessing to have the added helping hands around the house/with the girls while I've been feeling so bad.
This past weekend we all headed out to the Olympic Peninsula.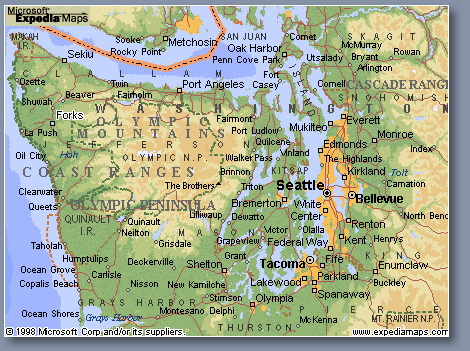 As I sit here writing, I have a peek of the Olympic Mountain range/peninsula, and it has become something of a writing inspiration for me.  I realize this is going to sound strange, but when I get in a writerly way, I look out at those mountains and feel sure that they're the last great wilderness on earth.  I've been warring inside all year, dying to set my feet in that wilderness…and hesitant to go and discover that it's just another National Park.
Well, this weekend we unveiled the mystery at last.  Taylor and I found this quaint little cabin, just outside of the park, where we could have much nicer accommodations for the same price as the very (ahem) rustic cabins within the park.  I don't mind roughing it, but I don't want to pay a high price for it.
The Compass Rose cabin suited us perfectly, right down to the warm cookies and note from the proprietor that were waiting on the counter when we arrived.

I've talked with y'all before about Jeremiah and my struggle with living in town versus the country.  This weekend felt like a peaceful wash of affirmation that we–all four–were made for wide open living.

Seeing my girls run free, while I washed dishes at the window, did something wonderful for my heart.

The first day we arrived, we went on a short hike near Lake Crescent to a lovely waterfall.

We drove to Lake Crescent for some shots of the sun going down over the lake.

Then we went back to the cabin to grill pork tenderloin and crash hard for the night.
The next morning we drove to Hurricane Ridge.
It's the highest point you can drive to in the National Park, and we'd heard that they clear away snow so that you can hike. We had a hard time imagining there would be much snow in the summertime…
But, it was still pretty significant 🙂
The snow was removed for about a mile of the trail, but we wanted to go a little farther. So, despite our lack of proper gear (Mary Aplin was actually wearing slingback, breathable Keens), we decided to see how long we could take it.

We were rewarded, without too much effort, with a spectacular view and a table carved out of the snow where we had a private picnic.
We had some little visitors that were pretty excited to see free food. We shared our Jalepeno Sun Chips, and they seemed ok with the spice.

About the time our lunch was ending, a cloud rolled in.

I was thankful we hadn't ventured too far off the trail! We made it back safely to civilization.
After Hurricane Ridge we drove two hours in order to reach Ruby Beach.  On the drive we meandered through Port Angeles and Forks…Does anybody else read/watch the hormonal teenage rage Twilight, like I do?  They were certainly proud of it in Forks.

Ruby Beach with it's sea stacks rising from turbulent waters, harsh drift wood, and desolate cloud cover, produced that deep writerly longing that I had been waiting to find on the Peninsula.

I told Jeremiah that I was pretty sure that if he left me here in a little cabin, I could write a whole lot of books….However, they may be sad books, and he would probably have to come and retrieve me bodily from the cabin before I dashed myself on the rocks. Why is melancholy and creativity so closely linked in my heart?
Despite my trancelike state, some fun was had on the beach.
After a long, bone chilling day we ordered pizza and put the little ladies to bed early at the Compass Rose. We spent our last night on the Olympic Peninsula like this.

The mystery uncovered but leaving me wishing for more.