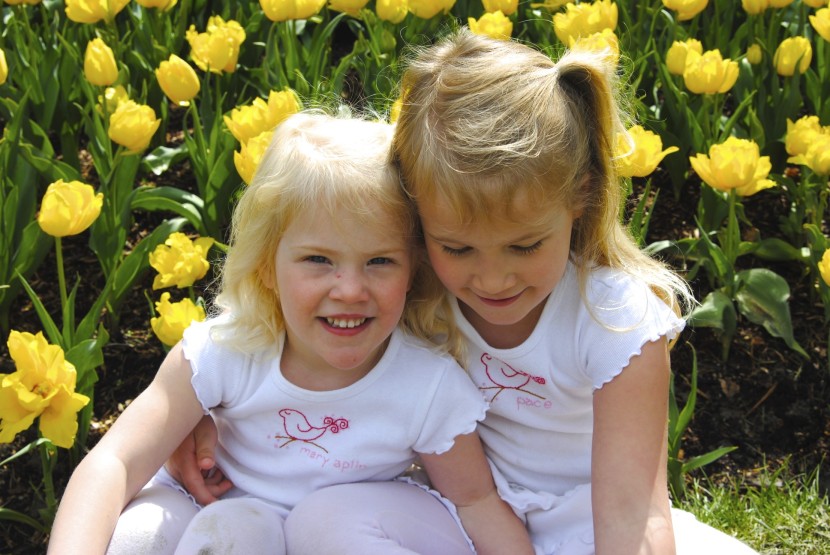 This is going to be a strange post, and one that most of you will not want to read.  I would not have read a post with this title a month ago.  However, I have a friend who read Ayn Rand's Atlas Shrugged and considered it life changing.  In an effort to understand my friend more, and in a quest to not be seen as a person who refuses to broaden her horizons beyond "turn-of-the-century, coming of age" novels, I took on this hefty challenge.
So that you're not confused by the pictures that are about to follow, I took the girls to Mount Vernon, Washington for the annual Skagit Valley tulip festival.
A couple of you sweet blog readers suggested that I go, but I wasn't sure that I wanted to drag the chicken wings an hour north to see some tulips.  Then, I ran into some women who had travelled all the way from TEXAS just to go to the tulip festival, and I thought, "Well, wouldn't it be a shame to not see it while we're here?"  Consider me a stupid fool for ever considering NOT going.  It was one of the most breathtaking sights I've ever seen.  I went expecting to spend a couple of hours, and I drug myself away five hours later.  Y'all aren't even going to believe how gorgeous these tulips are.  I figured if you're going to plow through this book review, you deserved to look at something pretty along the way.  And if you're not going to read it, at least this post has some pretty pictures for you to scroll through.
Ok, Atlas Shrugged.  I expected to hate it.  I expected to feel like a martyr the entire time I plowed through those thousand-something pages, just gritting my teeth and reading a bunch of Sci-Fi propaganda.  I mean, really, what could be worse?  I also expected it to be full of liberal spin.  Not sure where I got that idea, because it's totally the opposite, but I expected to be wanting to vomit into a liberal garbage bag the whole time.
Well, instead I found myself totally enthralled in a well-written story that was even more "conservative" (at least in some respects) than I am.  It's also a little racy, at least compared to the types of books I normally read.
On the whole, would I recommend it?  This is hard.  I think it's a fascinating point of view and a good read, but if you're not a Christian, or are a believer but are new to your faith, or are a believer but struggle with doubts–I would say, "Please don't read it!"  It's not that I wavered while reading it, and it's not that I don't believe that real truth will prevail, but Ayn Rand is extremely persuasive and this book is a long journey.  Telling a new believer to read this book would be like telling a recovering alcoholic to spend 30 minutes each night in a bar.  Chances are good, that's not going to end well.
The primary theme of the book is that the best way for a society to thrive (or even survive) is for each person in that society to serve themselves above everything else.  If I am considering capitalism alone, I would agree with that statement.  I think that a country is most likely to prosper financially if each individual in that society is working hard to better themselves–even to the point of selfishness.  I don't think that a business owner should hire someone based on that person's need, but their ability, if he intends to run a profitable business.
I can even accept Rand's view of me as a mother–That it is still a selfish act for me to care for my children well, because ultimately I am serving my own desire.  It is not a sacrifice, she argues, if I give my last crust of bread to my child and then die myself.  I want to see my child live more than myself, and therefore, that act is selfish, not a sacrifice.
I would even follow her so far as to say that I think that the "have-nots" should benefit from the "haves" self-service.  If a big business owner does not do what is best for his business to survive, then there won't be jobs for the people who need them.  If there aren't jobs, then there's not enough money in the economy to stimulate economic prosperity and stimulate the abundance (however slight it may be per family) to support those who cannot support themselves.
And if we want to get really political up in here, I don't think the government should have the right to decide who I give our hard-earned money to.  I believe it should be our right–those who earned it–to decide how to spend what we make.
Wow, those statements sound pretty taboo in our society.  Nobody feels like they should come out and say, "I want to make money, and I want to do that well!"  That sounds disgusting to us…Why?  For a book written in 1957, I feel like this statement relates frighteningly to where we are today:
This greatest of countries was built on my morality–on the inviolate supremacy of man's right to exist–but you dreaded to admit it and live up to it.  You stared at an achievement unequaled in history, you looted its effects and blanked out on its cause.  In the presence of that monument to human morality, which is a factory, a highway or a bridge–you kept damning this country as immoral and its progress as "material greed," you kept offering apologies for this country's greatness to the idol of primordial starvation, to decaying Europe's idol of a leprous, mystic bum.
Ok, so I could get fired up by some of this.  I could start to justify some of my selfishness as "right."  It felt kind of good…but something in me quavered at the same time.  Something felt in direct contrast to what I believe in my heart of hearts.  Because, while I can believe in capitalism, I can't believe in the hearts behind the people running our capitalistic society.  Can you?  I can't even trust myself.
If I believed that, in my selfish state, I would still desire to help others in need; that if I was only looking out for my best interest, that my heart would continue to yearn to care for others who cannot care for themselves, then I think we could adopt this doctorine…but I don't think I would.  And I believe in a God who charges us to do just that.
Then the righteous will answer him, "Lord, when did we see you hungry and feed you, or thirsty and give you something to drink?  When did we see you a stranger and invite you in, or needing clothes and clothe you?  When did we see you sick or in prison and go to visit you?"
The King will reply, "I tell you the truth, whatever you did for one of the least of these brothers of mine, you did for me." Matthew 25:37-40
[And these words from the lips of Jesus himself.  If I take His words as truth, it's hard for me to argue that it would be ok with Him for me to live a life devoted ultimately to myself as Rand sugests.]
What Rand worships, is production.  When she looks out over the city of New York and sees the skyscrapers that have risen from the ground by man's effort, or a long stretch of railway that has been laid to facilitate production, or a business running smoothly under a capable hand, her reaction (or the reaction of the character that is thinly disguised to represent her in the book) is very similar to my reaction…when I see the work of God's hands.  But what is the worship of production if not the worship of money, and I'm afraid the Bible speaks very clearly on the worship of money:
People who want to get rich fall into temptation and a trap and into many foolish and harmful desires that plunge men into ruin and destruction.  For the love of money is the root of all kinds of evil.  Some people, eager for money, have wandered from the faith and pierced themselves with many griefs. 1 Timothy 6:9-10
There were a lot of instances on my journey through this novel where I ached for Ayn Rand and the misguided plight of her soul.  She often roused feelings in my heart that were familiar, feelings–only stirred by my Heavenly Father,–but the problem was that she was seeking the same ecstasies from the wrong source.  Dagny Taggart (the heroine of the novel who represents Rand) cries these words in her heart at one of her lowest points of the book:
You–she thought–whoever you are, whom I have always loved and never found, you whom I expected to see at the end of the rails beyond the horizon, you whose presence I had always felt in the streets of the city and whose world I had wanted to build, it is my love for you that had kept me moving, my love and my hope to reach you and my wish to be worthy of you on the day when I would stand before you face to face.  Now I know that I shall never find you–that it is not to be reached or lived–but what is left of my life is still yours, and I will go on in your name, even though it is a name I'll never learn, I will go on serving you, even though I'm never to win, I will go on, to be worthy of you on the day when I would have met you, even though I won't…
And there is a description of finally meeting her god, John Galt, that made me want to cry–because something right was obviously stirring in her.  A longing for someone greater than herself to put her trust in, but instead of Jesus…she invented a guy named John Galt:
She was looking up at the face of a man who knelt by her side, and she knew that in all the years behind her, this is what she would have given her life to see: a face that bore no mark of pain or fear or guilt….He was looking down at her with the faint trace of a smile, it was not a look of discovery but of familiar contemplation–as if he, too, were seeing the long-expected and never-doubted.
This was her world, she thought, this was the way men were meant to be and to face their existence–and all the rest of it, all the years of ugliness and struggle were only someone else's senseless joke.  She smiled at him, as at a fellow conspirator, in relief, in deliverance, in radiant mockery of all the things she would never have to consider important again.  He smiled in answer, it was the same smile as her own, as if he felt what she felt and knew what she meant.
Does it make anyone else feel queasy–how close she is to the feeling of seeing our Savior face to face, while at the same time finding the wrong man?
The final dichotomy that holds me from joining the ranks of so many other Christians who support this book, is Dagny Taggart's ultimate belief that to accept or give anything as a gift is reprehensible.  She demands to do everything in life by her own strength and would spit in the face of someone offering her a "hand-out."  She believes that she has earned rewards and the right to a deep pride in herself through her own abilities and hard work.  I can get caught up in that pride feeling.  I can start wanting to scream "Amen!" to hard work and effort.
But what about the fact that our life and abilities are themselves a hand-out?  Who gave Ayn Rand her life to begin with?  Who gave her the mind she has to think and strategize?  Who gave her the strength for her tasks?  Did she conjure them up herself from the dust of the earth?
No, she did not.  I'm afraid that all the things she is most proud of are a hand-out from our Creator, and no matter how she balks at gifts, she has already accepted the ultimate gift.  While I think Ayn Rand has some wise ideas about capitalism, I choose to abandon her ultimate message–for the message of the One who gave her her mind and her ability.
{I know y'all didn't read that.  I don't blame you.  And it really is ok if you just want to leave a comment to tell me the tulips are pretty :)}