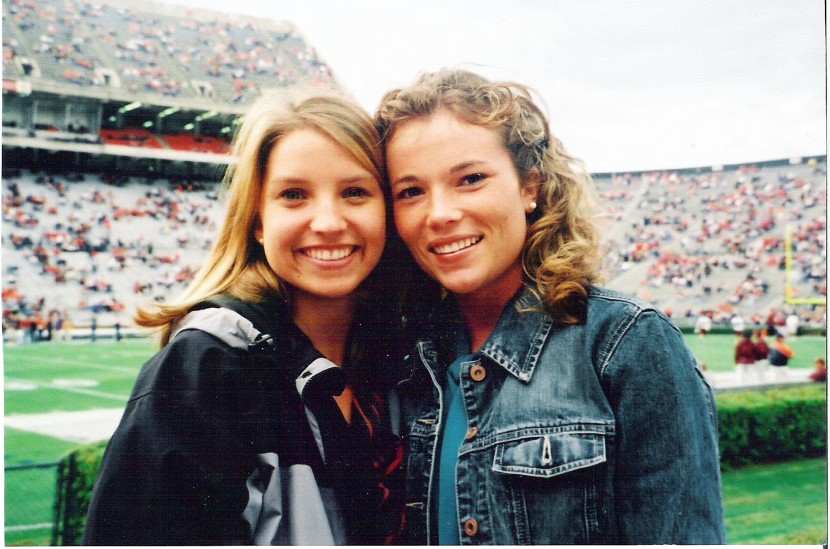 There are some friends that you have your whole life through, and Whitney has been that for me.  It all started in second grade when a chubby, insecure girl (that would be me) transferred from a Christian private school to public school and a confident little girl (that would be Whitney) decided to take her under her wing.  A lifetime of tears and laughter and AWKWARD STAGES were to follow.
Whitney recently came to visit me here in Seattle.  She is now married to a wonderful man named Cole and has a squeezable little girl named Lucy, but on this trip I got her all to myself.
Providentially, the Royal Wedding aired while Whitney was here.  As girls who happened to be born in the same year as Prince William, we spent a lot of time dreaming that God was going to unite us across oceans and cultures.  Why else would we be the exact same age as the future King of England?  We were practicing here, for the time he would make us his wife.  You can see Whitney got the crown, but I at least got some rolled hair and blue eyeshadow.
We weren't only obsessed with crowns for the way they associated us with the Royal family, we also held large parties each year (ok, maybe it was just the two of us on the couch with enough snacks for a large party) to watch the Miss America Pageant.  There will never be another night to compare to the one when Heather Whitestone, the hearing impaired Miss Alabama, took the crown.  We listened as the interviewed contestants, one after the other, said, "If I can't win, I hope it will be Heather who wins."  Our hearts sang (and we cried) as Heather did, indeed, win.  We waved back to her on the screen as though she could see us, and wondered if perhaps our future crowning as Miss America would lead to William finally noticing us as we deserved.
Life kept happening and somehow in college we still had not been crowned Miss America or the Queen of William's heart.
One day we decided that there was a lot more to life than William and Miss America.  Who wants all the drama of the Royal Family anyway?  God brought us our own Princes and some joys came along that we didn't even know to anticipate.
So, last Friday morning at 2 am Whitney came and roused me from the bed where I was sleeping with my husband, "It's about to start!" she whispered excitedly.  And, just like we had done for those Miss America pageants all those years ago, we curled up on the couch in our pajamas (and ate enough snacks for a large party).
"You know what Whitney?" I said. "If it can't be me, I'm glad it's her."
I knew Whitney would think of Heather Whitestone and that night all those years ago.  Isn't it wonderful to have friends that can share inside jokes from twenty years back?
In all seriousness, I wouldn't trade a million Prince Williams for this man.